Front Page
Senior Team
Underage Teams
Club History
Club Officials
Fixture lists
Lucky Numbers
Sponsors
Links

2009/2010

Well done to the Novelty Act & Set Dancers who qualified for the County Final of Scor na nOg which takes place next Sunday, 29th November in Ballymore Community Centre at 3pm.

The semi-final took place on Saturday night in The Downs GAA Clubhouse and when the results were announced the Novelty Act team of Shane Ward, Dean McDermott, Eoin Quinn, Neal Kirby, Diarmuid O'Brien, Avril Corbett, Ciara Corcoran, Orlaith Daly and the set dancers - Diarmuid O'Brien, Robyn Seery, Michelle Maloney, Orlaith Daly, Ciara Corcoran, Stephan Fagan, Johnny Bermingham, and Michael Dennehy, had all qualified for the final.

Well done also to the Castletown-Geoghegan Camogie Club Question Time team of Ciaran Glennon, David Pidgeon and Shane Killian who are also through the final after winning the semi-final competition.

Hard luck to all the other local compeititors who were taking part on the night and who put in some great performances. Well done also to all the mentors who look after the various acts.




2008/2009

Once again our Scor na nOg team excelled in the County Final which was held in Ballymore on Sunday last 23rd November. recapturing the three titles they claimed last year.

First up for the Club was defending Leinster Champion Kathryn Nea in the Solo-Singing. As usual Kathryn didn't disappoint and there was no surprise at the end of the night when her name was called out.

Emer Clarke was once again flying the flag for the Club in the Receitation and yet again she took home the Sean Cowley trophy, presented by her mother, Maura.

Emer captured her second medal of the night when the Novelty Act team, which also included Aonghus Clarke, Neal Kirby, Niall Kelly, Dean McDermott, Fearghal Daly, Eoin Quinn and Shane Ward gave another outstanding performance to take their third title in a row. Well done to all especailly Shane who had to contend with a prop malfunction - needless to say he handled it like a pro!

Our set dancing team of Michelle Maloney, Ciara Corcoran, Orla Daly, Robyn Seery, Diarmuid O'Brien, Johnny Bermingham, Michael Dennehy and Stephen unfortunately had to give way to the excellent The Downs team who were taking their fifth title in a row!

To cap an already terrific night there was great celebrations when the Club was announced as the Club of Year.

Many congratulations to all who took part and also to those who competed for Castletown Hurling and Camogie Clubs.

See below for photos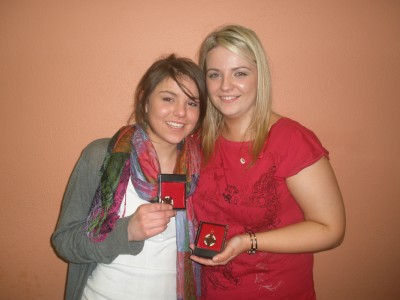 Emer Clarke & Kathryn Nea George Hatton, Scor Chairman; Maura Clarke,
displaying their winning medals Emer Clarke and Tom Farrell, County Board Chairman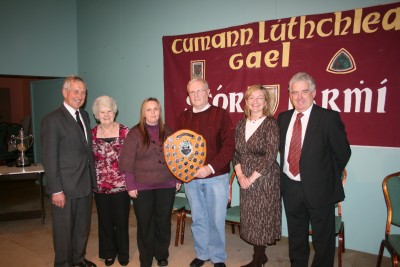 Pat Nea receiving the Club of Year award.
Also in the photo George Hatton, Rose Longworth, Bridget Ward, Deirdre Cowley Kennedy and Tom Farrell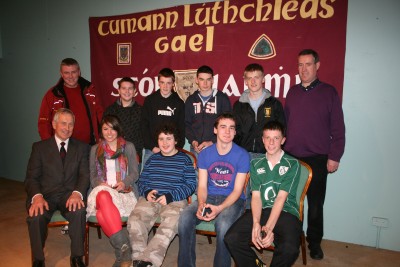 Novelty Act Team
Banjo Quinn, Fearghal Daly, Eoin Quinn, Neal Kirby, Dean McDermott, Martin Daly. George Hatton (Scor Chairman), Emer Clarke, Shane Ward, Aonghus Clarke, Niall Kelly.

27th November 2008
---

St. Malachys Scor na nOg group were in action in the first round of the Scor na nOg competition in Milltown Community Centre on Saturday 1st November. The following represented the Club:



Solo Singing

: Kathryn Nea



Recitation

: Emer Clarke



Question Time

: Edward Bermingham, Kathryn Nea, Aonghus Clarke



Novelty Act

: Aonghus Clarke, Shane Ward, Niall Kelly, Neal Kirby, Fergal Daly, Dean McDermott, Eoin Quinn, Emer Clarke.



Set Dancing

: Robyn Seery, Ciara Corcoran, Michelle Maloney, Orla Daly, Diarmuid O'Brien, Stephen Fagan, Michael Dennehy, Johnny Bermingham.

All gave great performances on the night and the following acts qualified for the semi-final which will take place on Friday 14th November in Ballymore - Solo Singing, Receitation, Novelty Act and Set Dancing. Many thanks to all the competitors for taking part and a special word of thanks to the various mentors.

-----------------------------------------------------------------------------------------


2007/2008

Kathryn narrowly misses out

Despite giving her usual oustanding performance in the All-Ireland Final on Saturday last, Kathryn Nea failed to get the nod from the judges. Indeed Leinster failed to get the nod in any of the competitions. Well done to Kathryn on reaching the final - no doubt she'll be hoping to go one better next year !


Club wins Leinster Final

Many congratulations to Kathryn Nea who captured the Leinster Title in the Solo Singing competition on Sunday last in Ballymore. Kathryn gave her usual polished performance despite an early hiccup with the microphone and saw off strong competition from Offaly, Kildare and Longford. Kathryn will now represent the Club, County and Province in the All-Ireland Final which takes place on Saturday 16th February in Athlone Institute of Technology.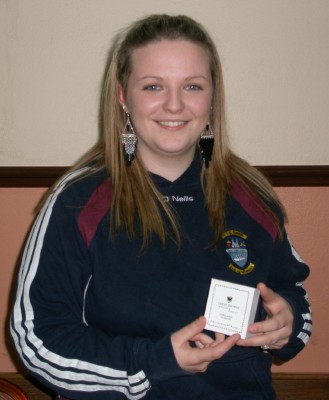 Hard Luck to Emer Clarke, who, despite giving it her all in the Recitation had to give way to the Offaly champion who recaptured the provincial title he last held in 2006. Emer also took part in the Novelty Act competition alongside Aonghus Clarke, Diarmuid Garvin, Neal Kirby, Shane Ward, Fearghal Daly, Eoin Quinn and Avril Corbett. Once again the team gave a solid performance, going down well with the audience, however in the end the nod went to the team from Wexford. It has been a great year for these boys and girls who competed in the Leinster Final for the second year running - maybe it will be a case of third time lucky for them next year !

The Club would like to congratulate all the children who took part in Scor na nOg this year and thank all the mentors for their hard work and dedication.

---


Club to contest Leinster Final in 3 competitions

The Leinster semi-final of Scor na nOg was held on Sunday last 9th December in The Downs. After an excellent nights entertainment there was great celebration when it was announced that Kathryn Nea in solo-singing, Emer Clarke in Receitation and the Novelty Act team of Aonghus Clarke, Diarmuid Garvin, Neal Kirby, Fearghal Daly, Eoin Quinn, Shane Ward, Emer Clarke and Avril Corbett had all progressed to the Leinster Final which will be held on 13th January in Ballymore.

Best of luck to them and to the other Westmeath contenders - St. Marys in the Figure Dancing, Moate in the Ballad Group and The Downs in the Set Dancing.

Club captures 3 titles in County Finals



The County Finals of Scor na nOg were held in Ballymore on Sunday 25th November, 2007 and there was great delight when the results were read out as the Club had annexed 3 of the titles.

Kathryn Nea was really up against it, having to compete with All-Ireland Champion Katie McCarthy of Mullingar Shamrocks, but after a flawless perforamnce, Kathryn was announced the winner.

Next up was Emer Clarke in the recitation and she proved the popular winner of the Sean Cowley Trophy.

The plans of our Novelty Act were thrown into disarray with the last withdrawal of Aonghus Clarke through illness, but Dean McDermott proved to be an able stand-in. Well done to Dean, Eoin Quinn, Emer Clarke, Neal Kirby, Avril Corbett, Diarmuid Garvin, Shane Ward & Fearghal Daly. Great credit to Martin Daly & Banjo quinn who coached the kids and helped them cope with the last minute hitch. Best wishes and a speedy recovery to Aonghus.

All 3 acts now represent Westmeath in the Leinster Semi-Final which takes palce on Sunday 9th December in The Downs GAA Centre at 3 pm.

Hard Luck to the the two young set-dancing teams representing St. Malachy's and St. Malachy's/Ballinagore who lost out to a well-polished The Downs side on Sunday last. Also to the Castletown Camogie competitors in the Question Time and Novelty Act competititions. Well done on reaching the final !

St. Malachys set dancers:

Orla Daly, Diarmuid O'Brien, Robin Seery, Stephen Fagan, Ciara Corcoran, Michael Dennehy, Michelle Maloney, Johnny Bermingham.

St. Malachys/Ballinagore

set dancers:

Orlaigh Brennan, Jane O'Neill, Dearvala O'Connor, Caroline Kelly, Laura Kelly, Katie Kirby, Grace Sheerin, Fiona Bray.